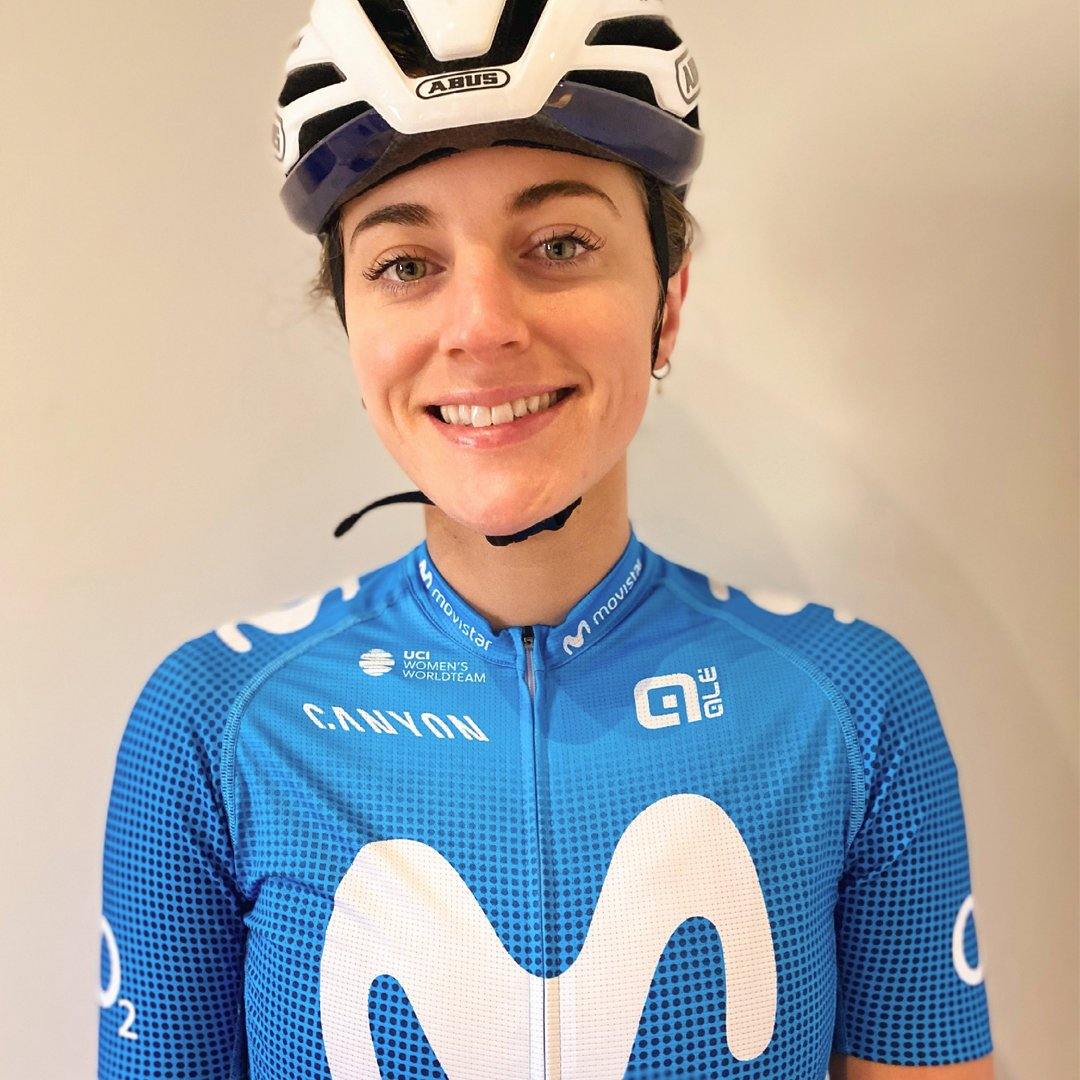 As they say, all grey clouds have a silver lining. While it may be a far stretch to say, one silver streak of the global health crisis is the massive uptake in indoor cycling. With the help of platforms like Zwift, cycling has never been so accessible. From that growth, a new wave of competition has begun to sweep through the competitive world of cycling; e-racing.
Riding and racing for the Movistar e-Team is Imogen Cotter, a competitive cyclist from Ireland living and racing in Belgium. We caught up with Imogen to gain some insight into the new realm that is competitive e-racing.
Having begun cycling in 2017 through a talent transfer program with Cycling Ireland, Imogen was, in fact, a runner all throughout her teens. "I trained for 2 years with the national track team, but at the end of 2018, I decided to step away and focus on road cycling. I thought the endurance element of road racing would suit me more than the explosive efforts on track," shares Imogen. From there, the Irish cyclist would move to Belgium to embark on her first road racing season in 2019 and has stayed ever since.
For many cyclists, Zwift and turbo have been a staple of training. Pre-pandemic, did you also use indoor cycling as a means of training?
I was always quite into the Zwift side of things. When I first started cycling in 2017, I lived in London and did nearly all of my training on a Wattbike at a local gym! In 2019, I broke my arm halfway through the racing season and continued my training indoors.
I took part in the Zwift Academy to get me through this injury and made it through to the final 10 women from 8,000, which I was pretty proud of! In the winter of 2019, after I gave back my team bike, I didn't have a bike for around 6-weeks, and I trained every day on Zwift. So I guess you could say it's been a massive part of my training to get to where I am today!
And then when the world went to their panic stations and we were made to stay home, did Zwifting become a big part of your every day, or were you fortunate enough to get outdoors still?
In March 2020, I decided to head back to my family home in Ireland before getting too crazy here in Belgium. This didn't turn out to be the best idea for my training! A week after I got home, Ireland went into a very strict lockdown, and we weren't allowed to go further than a 3-km radius from our house. This increased to 5-km after a month or so, but it still meant that 95% of rides, I was inside slogging it out on the turbo. 
The popularity of e-cycling and e-racing has soared, especially over the past 12-months. How does it feel to be a part of Movistar and this new movement?
I never in a million years would have thought I would make it on to the Movistar e-team. I definitely didn't think I was good enough to get this far. My coach suggested trying out back in January, and we thought I might get through one or two races before I got cut. I just kept getting through to the next round, and the next, and the next until I was on the team! It's a fantastic feeling. It's an honour to be representing the same team that some riders I really look up to are also on – like Annemiek van Vleuten and Emma Norsgaard. I also think it's incredible that Movistar leads the way with this venture as a World Tour team.
Do you have any personal and professional goals for 2021, and what are they?
Personally, I'm hoping this is my breakthrough year as a road cyclist. I have had some good results over the last couple of years, but in 2019 my first racing season was cut short by a broken arm and fractured sternum. Then in 2020, my second racing season was hugely affected by the pandemic.
I really hope I get a chance to race more this year to bring some consistency to my road results, then hopefully make a move to a UCI team next year to have a chance at the bigger races. I also hope I can make the selection for the Irish road team at some stage this year – I was selected to wear the Irish jersey back in 2019 but had to pass up the opportunity due to injury. I also hope that I can keep improving for my Movistar e-teammates. At the moment, I have the power but not the Zwift expertise or experience to be high in points. I'm hoping that I can keep improving and hopefully score some points for the team throughout the year.
Can you talk us through your indoor e-training set-up? 
My set-up from Movistar is on the way! I will be riding a Canyon Ultimate on the Elite Direto trainer. I try to keep all the windows open when I'm racing and have a fan on full-blast! We also have a lot of screens running as I'm trying to start streaming my races, so it seems to be a mess of wires as well at the moment!
What are your top tips when it comes to setting up an indoor cycling space in your home?
Try to pick a cool and well-ventilated area for your turbo if possible. Dehydration and overheating can hugely affect your power output and your perceived exertion, so it's essential to minimise that.
There are a few other things I recommend, like making sure your bib shorts are very comfortable, and your saddle is set up correctly. When you train indoors, your movement is a lot less than outdoors, so problems with saddle sores and discomfort can crop up a lot quicker than they would outside. I try to have a small table beside the bike with all my necessities. I say table, but a lot of the time, I use an ironing board! It's easy to adjust the height and keep it close by to press power-ups, grab a quick gel or get an extra bottle of water. 
You can follow Imogen's e-racing and road cycling journey via Instagram, and don't forget to follow the Movistar e-Team to see how they get on this year too!