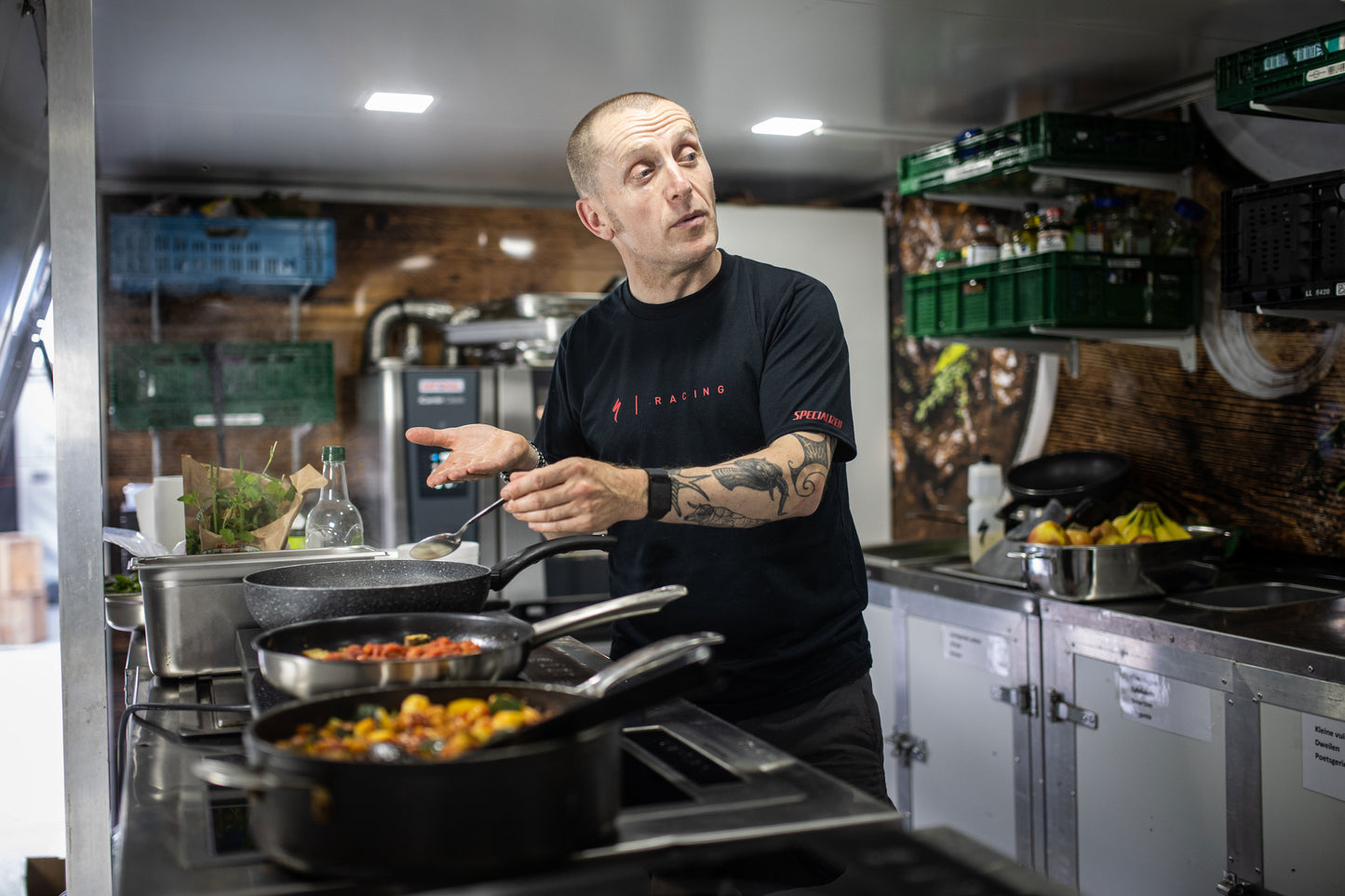 There is an expression in English "to have the best of both worlds" and Alan Murchison, aka "Performance Chef" has certainly managed that during his career; turning his enthusiasm for cycling and background training as a Michelin chef into an opportunity to travel the globe doing what he loves best.  We managed to catch up with him during a rare sabbatical to ask him some pea-green-with-envy questions….
You are obviously someone who travels a lot but where are you from originally?
I am originally from Inverness in the North of Scotland, moved to England in the 90s with work. With my job working in elite sport I tend to spend about 120-140 days a year travelling.
So how did you end up being a Michelin chef?
At school I started washing up in a local restaurant and things went from there. Loved the atmosphere, teamwork and clearly evident progression through the ranks.
Have you always been interested in road biking?
Always had a bike habit from BMX to having one of the first ever Specialized Stumpjumpers in the 80s.  Last year I did over 20,000km so still very much got the habit.
What led to you cooking for some of the most famous names and teams in cycling?
In 2013 I had enough of running restaurants and felt I needed a change of direction as I did not have the passion anymore.  I knew a lot about food and also sport so the natural step was to go into working with athletes.  It also helps a huge amount being a cyclist myself as I can relate to the training load and stresses around cycling performance.
You also do food nutrition plans and courses.  Tell us a bit about that...
We offer a bespoke weekly meal planning service, uploading food plans to Training Peaks. This works so well, as it means that the athletes we work with have the right food at all times for repair, recovery and fuelling training.  Often people say they eat really well… however is that optimal for performance?
What's the best way to fuel for say a one-hour Zwift session?
Good question, this would depend very much on the time of day and also what intensity you are riding. If, for example, you do a hard evening ride 'full gas' at the end of a hard week of work & training, this would be very different to an easy hour spin pre work at the start of the week. For me if I was doing say a 20–40 minute hard effort within a 60 min ride I could have 60-80g or carbs being a mix of carb drink & a gel however if this was a comfortable 60 min ride you would get away with a banana 60 mins pre ride and maybe an electrolyte drink. It is so dependent on intensity. 
On the other hand, how would you fuel for a 4-hour Sunday morning group ride?
Again, comes down to intensity, are you soft tapping, stopping for coffee and taking pictures for the gram? Or is it a full drop group smackdown.
So, anything between banana/bar & 500ml of liquid per hour to higher end of the fuelling spectrum which be 1g minimum or carbs per KG of bodyweight per hour. Some pro riders at 70kg take on upwards of 110g or carbs per hour on hard days...
What's best for a cyclist: pasta or rice?
Personally, I prefer rice as it is lower in fibre and easier for me to digest. The macros on both are near identical so comes down to personal preference, only thing I would say is if eating ahead of a key event make sure you plan the food in the 48hrs pre-event and make sure it works for you as an individual.

If someone suffers from the dreaded "bonk" what food should they grab? … yes I know we all go for Snickers..
No doubt in my mind… Red Ambulance…. Regular coke!! Try to avoid it in the first place. I always say that every 20 minutes 'do something' whether that's eat or drink… repeat until you get home.
Where is your favourite place to ride?
Really hard question as I have cycled all over the world. Top 4 as I cannot pick one: Girona, Miranda Do Corvo in Portugal, Santa Monica mountains in California and North Coast 500 route in NW Scotland.
Could you give us a really quick but nutritious post-ride recipe?  
Tin of tuna, some pre-cooked rice, a chopped-up avocado & handful of salad, season well and add a large dash of olive oil and you have a perfect post ride recovery meal. 
You clearly like your "van life", what set-up do you have?
I am very lucky to have a custom Volkswagen T6.1 from CJL Leisure. The van was built to my spec and is stunning but also incredibly practical with a built-in bike pod with jet wash, pop up roof with double bed, a stove and fridge but most importantly I have a La Marzocco coffee machine in the van. We all know cycling and coffee go hand in hand.
What's the best thing about your job?
Working in a high-performance environment with like-minded people. I am currently with Specialized Factory Racing which is the biggest and best elite cross country mountain bike team in the world. Every rider is an ex or current world champion. The atmosphere, ambition and team dynamic within the group makes it the most rewarding 'job' you can get. We also get to hang out in really beautiful cool places whilst riding bikes... can't beat it.
Alan currently has two books available on Amazon:  The Cycling Chef Vol 1 & 2
For your chance to WIN a signed copy of one volume, please follow both @performance.chef and @neatcleats.cc on Instagram.  Winner to be announced on @neatcleats.cc.