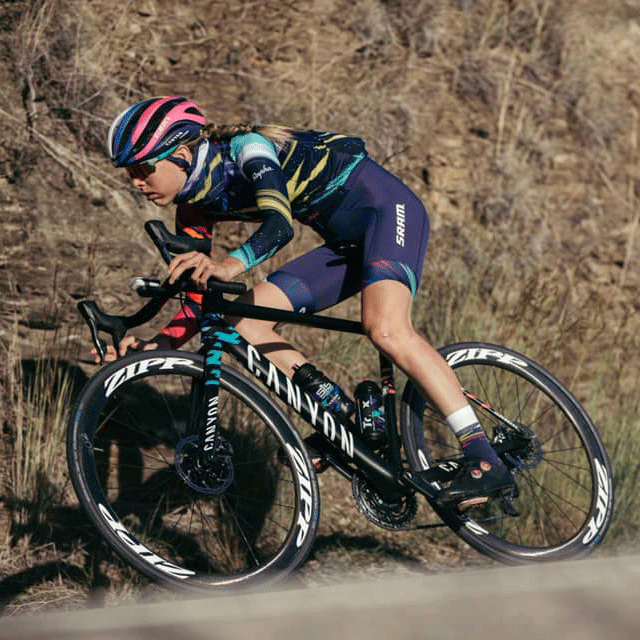 If you weren't already familiar with the young professional cyclist,

 

Ella Harris

 

of CANYON//SRAM Racing, then you're about to get a whole lot more familiar with the New Zeland-based road athlete. We get personal with Ella and find out some very interesting tidbits! 
What's your guilty pleasure?
Baking! I really love homemade baking or something from a cafe. A piece of cake, slices, cookies, muffins, scones – I just like it all. I wouldn't really consider it a guilty pleasure though, because I have no guilt and it's a regular part of my daily diet!
What 5 things do few people know about you?
– I was previously quite musically inclined and played clarinet, saxophone and piano until I was 16. I wasn't the most diligent student which was evident when I failed my grade 7 clarinet exam, so called it quits after that.  
– I have extremely hyper-mobile knees that defy physics and human biomechanics. 
– I'm left-handed, always a point of conversation when I pick up a pen. 
– I study at a New Zealand University through online learning (not just because of COVID!) and am nearing the completion of a Bachelor of AgriCommerce degree majoring in Food Marketing. I am required to complete work experience before being eligible to graduate and am currently doing a portion of this with a speciality coffee roastery business in Dunedin. 
– When I was younger, my dream job was as a taxi driver because I loved (and still do) maps. 
What's your favourite post-ride snack/meal?
A classic NZ/ Australia style brunch is my go-to at the moment. It usually consists of avocado and vegemite on toast with scrambled eggs or smoked salmon and mushrooms. Sometimes I go more American with my favourite 'granola' flavoured nut butter, raspberry jam and sliced banana on top. 
Are there any athletes or public figures who you really admire, or fangirl over?
There are many athletes from other sports that I admire and like to follow, but the female cyclists always spring to mind first! Ashleigh Moolman-Pasio, Christine Majerus and Tayler Wiles because they always seem to be performing brilliantly for their teams but also achieve their own results, and are such reliable all-round riders, Kasia because of her incredible fight and spirit during the critical moments in races, and the likes of Hannah Barnes and Alexis because they are easy-going and both like a breath of fresh air. Athletes who don't take themselves too seriously, inspiring or thought-provoking, have a good sense of humour and are multi-dimensional eg. not just sport, are always likeable to me. 
The best thing about being a pro athlete?
Being able to focus 100% on your sport is really nice, so not having to worry about fitting in training around work and subsequently compromising recovery, sleep, additional off-bike work etc. The places you get to travel to and ride your bike are pretty incredible, and I love being able to meet lots of new people as well as work with awesome sponsors and brands. 
The worst thing about being a pro athlete?
Thankfully this is actually quite a hard question to answer, it takes some mulling over! I guess there are some days where the weather is terrible and mentally you're a little over it, the times when it actually does feel like a job! You've still got to get the hard work done regardless, but it's nice to combine daily exercise, work and enjoyment all into one. I also have had my fair share of crashing and I'm rather over that to be honest – I know I would be far safer and less scarred if I just rode recreationally a couple of times a week. 
If you could try a different cycling discipline, what would it be?
I did one gravel race in Steamboat Springs, Colorado, during 2019 and thoroughly enjoyed it, so would really love to do more gravel racing and riding in general. I'm not sure if you can consider these separate disciplines even though to me they look quite intense and specialised from the outside, but I am quite intrigued by the UK time trial and hill-climbing scene. 
Don't forget to follow Ella Harris on Instagram along with the CANYON//SRAM Racing team.