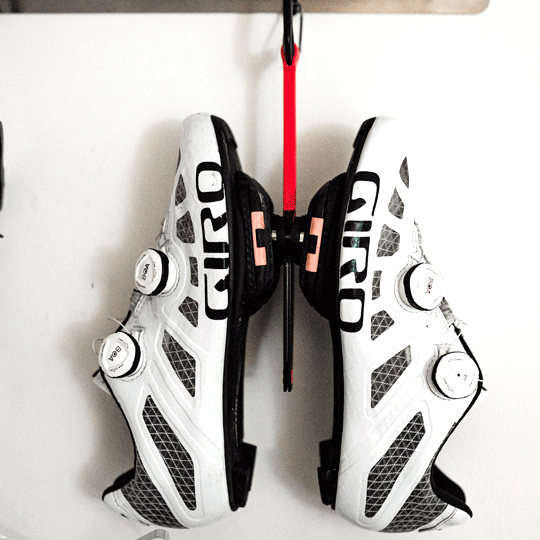 Let's face it; cycling is not the most affordable of hobbies to become passionate about, but we can't help what we fall in love with! When you have shelled out a pretty penny for your bike, accessories and your colour-coordinated ensemble, suffice to say, you want to make your gear last for as many miles as possible. This is why we think prolonging the life of your cycling shoes is one of the best investments of time you can gift your cycling relationship.
Think about it; your feet are one of three contact points that bonds you with your bike. Those contact points work together harmoniously as you ride, but if one of those points becomes uncomfortable due to failure in equipment or injury, riding a bike can be quite tricky, even, impossible. So here are a few simple and affordable ways to help make your cycling shoes last for as long as possible.
Transportation
Whether you're travelling to your next social ride or you've just arrived at work after riding in, don't leave your cycling shoes crumpled at the bottom of your bag or locker. Instead, try to sit your cleats flat on the floor, or you can use one of our carabiner Neatcleats to hang them up safely at work, in your car or attached to your backpack. Either method ensures creases and folds don't weaken your shoes, and both ways allow shoes to air out comfortably until you need them next.
Drying Out
If your cycling shoes become damp, they need to dry out appropriately to prevent any bacteria or mould from developing. Some shoe types will have removable soles which make the drying process a lot quicker, while other shoes may take longer to dry out, depending on their construction. One method is to hang your shoes up in a dry room so they can air out and dry naturally. Another drying method is to stuff your shoes with sheets of newspaper to act as an absorbent for moisture. While it's not as quick, it does work! Finally, if you have access to a fire, then leaving your cycling shoes at a safe distance will dry them out super quick as a dry heat works best.
Cold Weather
The colder months of the year bring with it rain, sleet and snow which renders the roads a gritty nightmare. All this grime works away at your cycling shoes, scratching them up, fraying the material, and caking up the fastenings. Overshoes are your cycling shoe saviours throughout winter as they act as protection for your shoes while helping to barrier the cold and wet away from your feet.
Fastenings
It's all too easy to get in from a ride and kick off your cleats with little consideration to the fastenings. However, you need your fasteners to be in tip-top shape so that you can dial in your perfect fit each time. This is why it's essential to undo your laces, wind off your BOAs and rip off that Velcro properly.
Shoehorn
Another big cycling shoe no-no is wiggling and forcing your foot into your shoe. If you're struggling to get in, it could be because your fasteners are too tight, or that you need a shoehorn to gently guide your foot in, without damaging the heel cups. As the heel cup weakens, the level of protection and support for your foot significantly reduces.
Storage
Kicking off your cycling shoes and casting them aside in the hallway is not going to do very much good for them. Consider getting yourself some proper shoe storage which keeps them safe from hungry mouths and paws, while allowing your shoes to rest comfortably in their intended shape. We'd be remiss if we didn't mention at this point that our convenient Neatcleats come in handy carabiner and wall-mounted versions!