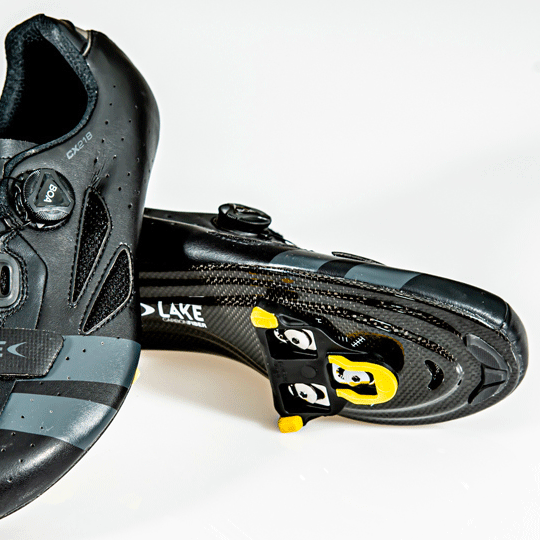 There are absolutely hundreds of road cycling shoes to choose from, but with emerging technologies, swift-changing trends and the increasing physical demands of your disco slippers, the result is a plethora of variations and styles that can boggle the mind with technical jargon. Today's road cycling shoes are designed to maximise the transference of power from your legs to your bike while offering enough support and comfort to make those century rides fly by.
For a majority of cyclists, including mountain bikers, clipping in has become the adopted norm. Offering more performance for your power, clipping in allows you to keep your foot planted in its optimal position allowing you to power down on the pedals for maximum efficiency. Although the idea of using clips may sound daunting at first, a simple twist and lift motion will loosen off the cleat and give you the freedom to unclip, just in time for the traffic lights!
With so many things to consider, what key elements make up our cycling shoes and why is it important to get familiar with these features? Let's begin the dissection…
The Upper
The upper area of a cycling shoe is the area that covers over the top of your foot. The material of which can be made from anything, but typically, brands tend to opt for synthetic fabrics, leather and even knitted polyesters. Each fabric will have a varying degree of breathability, as well as weight. For off-road cycling shoes, the upper tends to have anti-abrasion areas for rougher terrain use, and can even be waterproof, whereas, for road cycling, it's all about saving weight wherever possible and having sufficient ventilation.
You'll find that shoes that sit at the higher end of the price scale tend to have higher quality materials, newer technologies and weigh much less than entry-level priced shoes. Last, but certainly not least, the upper area of the shoe is the colourful part! Whatever the colour of your bike, accessories or cycling kit, you're sure to find a shade of shoe to complete your Power Ranger ensemble.
Mid-Sole
A majority of cycling shoes will have a middle layer sole to provide additional support and stiffness. Having a firm sole further helps deliver power to the pedals, without any of your effort being loss to flexibility. Upper-end shoes tend to have a stiffer and lighter sole, which is often constructed from carbon, whereas recreational cycling shoes have a mid-sole that's commonly made from resin.
Sole
Arguably one of the most important elements of a cycling shoe is its sole. For optimal power output, you'll want a carbon fibre sole that's stiff, compliant and lightweight. However, these soled shoes usually come with a higher price tag and are often sought after by hardcore enthusiasts and athletes. If carbon soles are a little out of your price range, then worry not as there are more affordable options to consider, like nylon soles reinforced with carbon fibre. This blend still offers a relatively stiff sole but they won't be as high-end or as light as its full-carbon counterpart. When considering what type of sole you want for your shoes, it's important to consider how comfortable they are. The stiffer the sole, the more feedback you're likely to feel from the terrain. If smashing Strava leader boards and point-races are your focus, then consider splashing out on a shoe that'll help you achieve your goals.
Closure
How would you prefer to fasten your shoes? Closure systems vary from simple and effective Velcro to fancy BOA ratchet types, with the other two options in between being laces and buckles.
You'll typically find Velcro straps on more entry-level cycling shoes. Simple and easy to use, Velcro allows you to wrap and tighten your shoes by crossing over the top of your foot. The downside of Velcro is that is can get 'fuzzy' over time, especially as your shoes are exposed to the elements, which will reduce their effectiveness over time. In more recent years, laces have made a big comeback into road cycling. Offering another lightweight option, laces allow you to pull, adjust and tighten the length of your foot so you can get an even and comfortable fastening. A disadvantage of laces is the difficulty in adjusting them on the go. BOA and other ratchet systems are typically found on higher-end shoes owing to how easy they are to adjust and secure. The dial loosens and tightens thin wires which have been strategically designed along the shoe to offer pressure where you need it most.
Heel Cup
The heel area of the shoe is known as the 'heel cup' and its job is to prevent your shoe from slipping on your foot. If your foot slips within your shoe while pedalling, you're running the risk of developing blisters, getting hotfoot and having other fit issues that can disrupt your ride. When trying on a cycling shoe, lift your heel off the ground and press down on the toe to ensure the heel cup is secure and comfortable.
Sole/Toe Bumpers
Some cycling shoes will have bumpers on the sole and around the toe area to stop you from slipping when you're walking around. As walking will cause a lot of wear to bumpers, these parts are often replaceable so it's a good idea to enquire what parts of the shoe can be replaced to improve their overall lifespan.
Vents
Ventilation plays a key role in the comfort of your feet as well as helping to reduce the risk of developing foot-related ailments. Keep an eye out for mesh panels and perforated holes in the upper material, but remember, the more ventilated your shoes are, the less water-resistant they'll be!
Insoles
Insoles are an optional purchase, but necessary if your foot requires support. A quality insole will not only mould itself to your foot, but it will help align and stabilise you for increased comfort and greater performance. High-end performance insoles can be heat-moulded to your feet for a perfect fit, whereas more affordable options will only deform so much.
With a clearer understanding of your typical road cycling shoe, you can head to the online shops to make a more informed decision and find the perfect glass slipper fit for your road cycling adventures. Don't forget to keep your cycling shoes safe with a pair of Neatcleats!