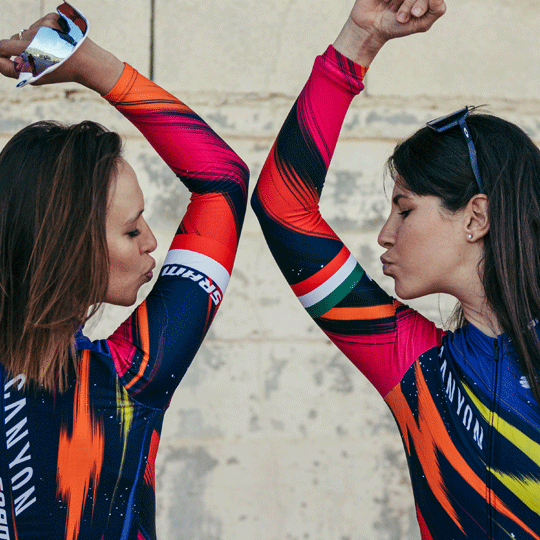 The world is caught in the throes of a global health crisis, which has resulted in lockdown measures being implemented all over the globe. With cycling's race season currently on hold, and in some cases, cancelled altogether, professional athletes have found themselves with much more time on their hands. We caught up with a couple of the CANYON//SRAM team riders to find out how they're doing, and more importantly, how they're coping without the trials and tribulations of competitive racing.
As a non-professional athlete, it's tricky to imagine what life would be like as an athlete. The hunger to compete, the dedication to training and being able to withstand the pressures of cycling while performing your best, it's certainly a feat for no mere mortal. Just like the rest of the world whose lives have been altered due to Coronavirus, Tanja Erath, Kasia Niewiadoma and Omer Shapira from CANYON//SRAM Racing are adjusting to a new way of life at home.
Just three-days before Germany enforced lockdown measures throughout the country, Tanja Erath returned from Spain with her partner.  Although Germany is permitting outdoor exercise, Tanja chooses to stay at home to train to reduce the risk of sustaining an injury and to help reduce the spread of infection. Having won the Zwift Academy in 2017, and subsequently earning her place on the team, Tanja explains that she's been "using Zwift a lot during the lockdown to train and ride with the girls. It's good fun and it helps to track my fitness while racing isn't on."
Before joining the CANYON//SRAM team, Tanja was practising medicine. "I continue to monitor the situation and I speak with former work colleagues as I have ICU experience. If the situation worsens, I may need to return to medicine as I have experience with ventilators and intensive care."
Over in Girona, Spain, Kasia Niewiadoma is spending lockdown with her partner, her turbo trainer and a newfound flair for baking. Kasia explains, "I train between 1-3 hours per day but it's not the same without nature and the stimuli that come with it. I have also been doing a lot more baking and cooking during the lockdown. I enjoy experimentation and playing with different flavours."

Like so many of us, Kasia is taking each day as it comes. "The first week of lockdown confused my body. I was lethargic, sleepy and I didn't feel right.
My body needed to adjust to this new way of living and now, I'm more in the present than ever before and have begun to appreciate the things that I once took for granted." However, Kasia explains that having some downtime is welcomed, "I've been able to slow things down and consider my life, my future and it's reignited my passion for racing. If there are no more races in 2020, then I'll head into 2021 with more hunger than ever before. I miss the pre-race routines with the team. The adrenaline of racing, pushing my limits and going hard on the bike. It mentally strengthens me."
Also spending this time in Girona is Israeli National Champion, Omer Shapira. Home training can be a little tedious and repetitive after a while, but Omer trains with her partner for motivation and encouragement. Heading into 2020, "I was really prepared heading into this year, but this lockdown has given me time to reconnect with myself. There's no need to worry about timings and places to be, so I can relax a little – although, I do really miss racing!"
Despite the desire to race and put all her winter efforts into effect, understanding that the current global health crisis is much bigger than racing and that it is temporary has helped Omer keep her spirits up. "I hope the season will restart again this year so we can race. I love to feel like I'm in good shape. I enjoy burning calories, sweating and feeling like the athlete that I have trained myself to be."
You can keep up to date on the CANYON//SRAM Race team by giving them a follow on Instagram. For more information on the riders, head over to WMNCycling.
Photo credit: Thomas Maheux