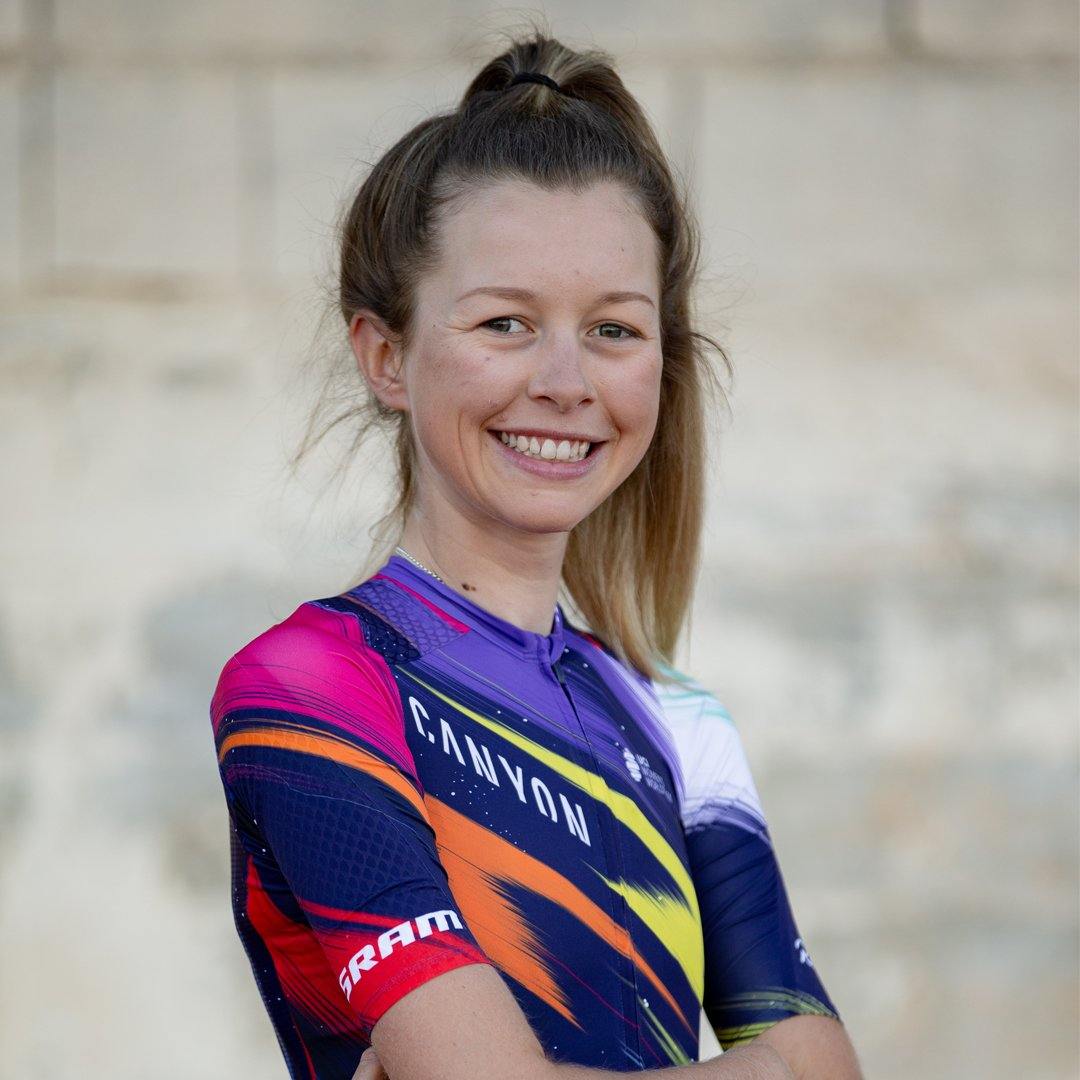 As we settle into a new year and a new-normal of living, the professional cycling industry is proactively navigating through the turbulent waters of a global pandemic. After a genuinely unprecedented year in cycling, the racing industry is in a much more educated position to operate a safe capacity. With imposed lockdowns, travel restrictions and impact on life, both on and off the bike, we caught up with Ella Harris of the CANYON//SRAM team to find out how she's going to tackle 2021.
Suppose you're not already familiar with Ella Harris' exploits. In that case, you may remember her as the Zwift Academy winner in 2018, earning herself a pro contract with CANYON//SRAM racing at the beginning of 2019. Hailing from Dunedin on the South Island of New Zealand, Ella began cycling at the age of 10, shortly before competing at regional school triathlon events. However, it wasn't until a few years later that Ella began cycle racing after joining her high-school cycling club.
Fast forward to 2018 when the Zwift Academy welcomed a new year of hopeful participants, battling it out for a professional contract with CANYON//SRAM. Challenge after challenge saw the opposition eliminated until there was one-woman-standing, Ella Harris.
"To win the Zwift Academy was an opportunity that many would dream of. It enabled me to ride and race with the World's best and to be supported by a fantastic team under the best possible conditions."
Having only raced national and regional cycling events, Ella Harris was accelerated into World-level professional cycling at the beginning of the 2019 season. For such a young aspiring athlete, Ella shares how it felt to have won a contract with CANYON//SRAM racing.
"At first, it felt a little bit strange to be thrust into this professional team with a complete lack of results or credentials on an International level to my name. The prize was everything I could have ever wanted, so to have a clear plan without the stresses of trying to organise and fund everything myself was simply incredible. Being in such a world-class professional environment, with a top-quality of racing, meant that I could become comfortable. I could improve and learn the ropes very quickly, and attempt to bring myself up to speed with the admirable company I kept!"
Despite the global pandemic hampering races all over the World, Ella managed to bag herself numerous top 10 positions, including the Time Trial win at the National Under-23 Road Championships. However, the highs and lows of racing, coupled with a global health crisis, took a toll on Ella, both mentally and physically.
"I struggled around March/ April time when I arrived back in New Zealand without any goals on the horizon, after being in Europe preparing for the season. The physical training wasn't particularly arduous, but I didn't enjoy forcing myself outside for monotonous exercise. I began to question myself as to why I was even doing it!
Mentally, I struggled, thinking that I wasn't doing enough and anything that I did, didn't seem adequate. Yet, without any upcoming races, it was best to take a step back, and let the legs simply tick over. I also felt surrounded by negativity when it came to bike riding, online and from onlookers around town, so I went 'underground' and solely rode on Zwift for over two weeks in a row.
Seeing so many other people, not just in New Zealand but globally, using Zwift during these times also inspired me to ride indoors. I ended up in fantastic physical form and had never felt that good on the bike before. I discovered a whole lot of motivation that I didn't realise I could stir up and took so much enjoyment from racing on Zwift to collecting badges for completing routes.
Once I eventually made the journey back to Europe in July, my first race was really promising with a top 10 finish and a U23 win in a Spanish UCI 1.1 race. This confidence and excitement were short-lived when I broke my femur the day before Strade Bianche and consequently encountered a whole new array of challenges. With the racing calendar being delayed for so long, it was incredibly disheartening and frustrating to be out of action right at the beginning of the 'new half-season'. Sitting on the sidelines with an injury that required long rehabilitation time and large amounts of mental perseverance certainly wasn't the easiest. It was only really coming into December 2020 when I started to feel like even a shadow of my former 'cycling self'."
Find out how Tanja Erath, Kasia Niewiadoma and Omer Shapira survived Lockdown #1 
After a year of getting more familiar with the 'new normal' since the pandemic began, what are your goals for 2021 in terms of cycling?
"My number one aim currently is to simply get back to the level of riding that I was at this time last year. Unfortunately, I was caught up in another crash early January where I sustained a pelvis injury. Still, I could ride on Zwift one week later and on the road again after two. It's now three weeks post-crash, and I'm beginning to train solidly, which is really satisfying and encouraging.
Like the femur, I'm seeing this as yet another opportunity to start afresh on a clean slate. Still, unlike the uncertainty and challenges that came with that injury, the path is far clearer now. I'm confident that it'll be a mostly upward trajectory with many issues behind me or under control, so my primary goal is to become a better overall athlete than I was before the crash. Once I'm back feeling confident in my ability, then it'll be all about striving for solid race performances from mid-year onwards, and I honestly can't wait for that time!"
Do you have any 2021 resolutions, both on and off the bike?
"I have a few little resolutions. I aim to read 20 books this year and also improve my Spanish to a proficient conversational level. Cycling related, I am really trying to dial in my riding nutrition and improve my snack intake on the bike. I also hope to get my L/R power balance to 50/50 by refining and being diligent with the strength work I do, to build each leg stronger. After my femur break, it was 54/46, and now after my pelvis injury, it's switched around to 48/52."
---
Ella Harris | Instagram
CANYON//SRAM Team | Instagram
CANYON//SRAM Team | Twitter